Did you know we sell and install tires? Do you need big meaty off-road tires for your Jeep, truck, or buggy? Check out how we can mount, balance, and protect your wheels and tires while doing it with the latest equipment from Hunter.
Mounting and balancing large off-road tires takes better machines than most regular tire shops. The extra weight, large diameter, and techniques needed to balance these large tires aren't found at your local car tire installer. Even mounting the tires onto the rim requires larger machines with the size to handle a 35 inch or larger tire.
The TCX57 can handle a 43 inch tire and up to a 26 inch rim! That's some serious tire for any road going vehicle. From big trucks to lifted off-road rides we can handle it.
While most vehicles are design around a hub-centric design, most aftermarket wheels are lug-centric. This is so a particular wheel will fit several different vehicles. It also means that most places are balancing your wheels differently than they mount on your vehicle. We balance using a lug-centric mount matching how they will mount and run on your vehicle.

TCX57 Details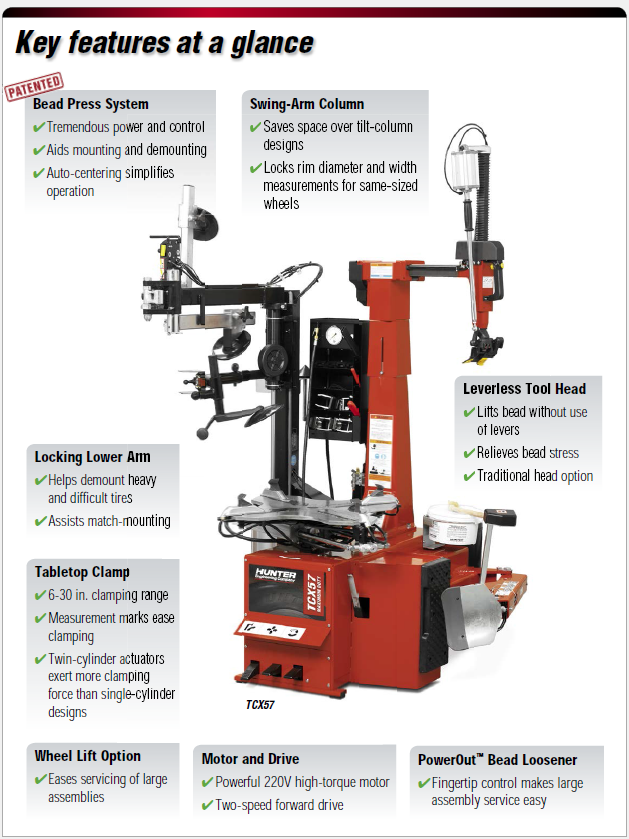 Smart Weight Touch Details
The Smart Weight Touch balancer is just as sturdy as our tire changer. Capable of wheels weighing 175lbs and 44 inch diameter tires it can keep up with the demands of today's larger and heavier tires.
Touchscreen Interface
Intuitive interface & Quickly train new technicians
eCal™ Auto-Calibration
True "self-calibration" & No operator input required
CenteringCheck®
Ensures proper centering & Eliminates setup errors
SmartWeight®
Improve balance, Minimizes weight usage.       
On-Demand Videos
Simplify training & Improve results
Bottom-Dead-Center Laser
Speeds tape-weight placement & Improves accuracy
HammerHead® Option
Speeds clip-weight placement & Improves balance
TPMSpecs™
View reset procedures, Updateable database & Produce hard copy pages with optional printer
Superior Alloy Shaft
Most durable in industry & Ensures accurate balancing for years to come
Call us today to get your tires mounted and balanced. Need tires? Call for a quote on the whole package! (410) 263-1286